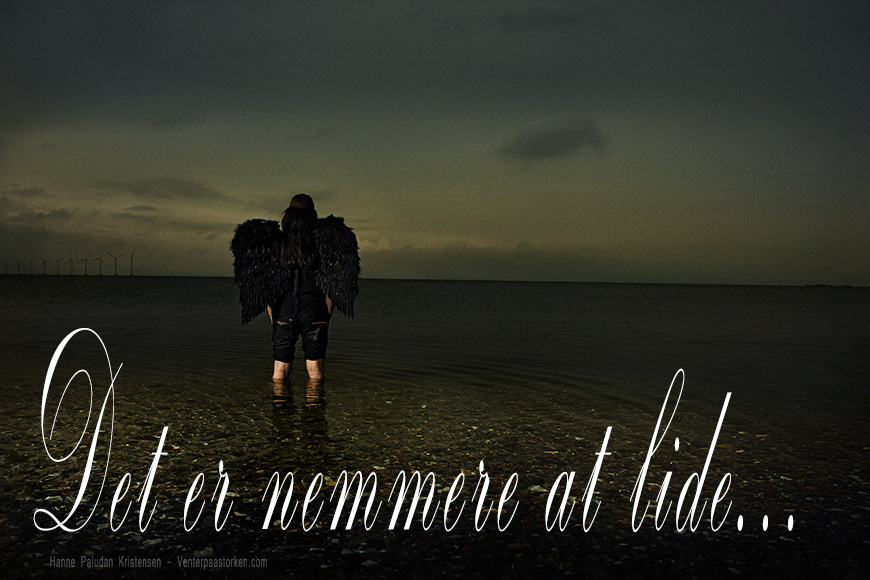 Følelsen af lidelse, svigt, smerte og ked-af-det-hed kan være så indgroet at den faktisk føles mere tryg end følelsen af glæde, kærlighed og lykke… Fotograf: Hannah Paludan Kristensen
Lidt absurd overskrift, men jeg skal prøve at fortælle dig hvad jeg mener med dét udsagn.
Først, en indrømmelse; på trods af at jeg lige har været til meditationskursus i dag, så er jeg stadig ikke nået så langt med at få implementeret meditation i min hverdag.
Som jeg skrev sidst, så skulle jeg jo ud og købe mig et vækkeur – læs Stumper Af Lykke – hvis du vil vide hvad dét handler om.
Men jeg kom ikke af sted efter at have skrevet mit indlæg, for der var butikkerne ligesom lukkede, så det kunne jeg jo godt droppe.
Jeg lovede mig selv at jeg ville gøre det dagen efter, men der fik jeg heller ikke lige gjort det.
Faktisk gik der mange dage før jeg fik købt det skide vækkeur, men NU er det købt. Og jeg bruger det.
Men er telefonen kommet ud af soveværelset?
Mest nej…
Og det var jo det der var hele idéen med vækkeuret…
Den første dag jeg havde vækkeuret, der blev telefonen lagt ude af soveværelset, men de efterfølgende dage sneg den sig sgu tilbage, og dét selvom jeg jo  nu ikke kan bruge undskyldningen med at jeg skal bruge den som vækkeur.
Hvad er så problemet?
Hvorfor får jeg ikke bare smidt den telefon ud af soveværelset og startet med at -prøve at- meditere om morgenen? (Hvis jeg har tlf i soveværelset så tjekker jeg bare den i stedet for, så det er derfor den skal ud)
Jeg ved det ikke…
Jeg ved det virkelig ikke…
Eller rettere, jeg ved det faktisk godt lidt…
Hvis jeg skal være helt ærlig…
Og det skal jeg jo…
Det er nemlig samme mekanisme som når jeg før i tiden -for sådan er det ikke mere- skulle bevæge mig hen foran spejlet og lave de her spejløvelser hvor jeg skulle sige pæne ting til mig selv og min krop (Det kan du også læse om i Stumper Af Lykke) og jeg så ikke liiiiiiiiiiiiige syntes at jeg kunne nå det den dag og fik overbevist mig selv om at jeg gør det i morgen… Eller på mandag…. Eller i weekenden…
Og den samme mekanisme der forhindrer mig i at gøre en dårlig dag til en bedre dag fordi jeg bilder mig selv ind at jeg ikke kan.
Lad mig komme med et helt banalt eksempel:
Noget der påvirker de fleste menneskers humør rigtigt meget er musik.
Og du har sikkert også prøvet at noget musik har forstærket en følelse.
Og det er jo ikke så mærkeligt, for rigtigt meget musik er skrevet i et øjeblik hvor kunstneren har været i en bestemt følelse.
Meget musik og mange tekster er blevet til da kunstneren/forfatteren var midt i en ulykkelig tilstand, det samme gælder f.eks også denne blog, utallige bøger og stribevis af film.
Derfor handler rigtigt mange sangtekster, bøger, blogs og film om kærlighed, mangel på samme, tabet af dem man elsker mest, nådesløse svigt og lidelser, og vi kan allesammen nikke genkendende til det og identificere os med sangeren, forfatteren eller skuespillerne i filmen.
Du kender sikkert godt det der med at sidde og høre sørgelig og trist musik når du er ked af det. Måske særligt kvinder.
Har jeg ret?
Så i stedet for at sætte noget gladt, up-tempo musik på så sidder du og lytter til sange om skrækkelig kærestesorg og dvæler ved din ulykkelighed og luller dig selv ind i den endeløse offerrolle.
Jeg tror nærmest ikke at Adele -Ja, altså hende popsangeren- bestiller andet. Hun siger det jo mere eller mindre selv i alle sine sange.
Jeg er ikke i tvivl om at meget af det hun synger om er ægte nok og jeg kunne godt have hende mistænkt for inderst inde at være et ret ulykkeligt menneske, og jeg tror også at det er derfor at hendes musik rører så mange.
Nå, men nu skal jeg ikke sidde her og psykoanalysere Adele.
Tilbage på sporet.
Det var det med det eksempel på en mekanisme jeg skulle komme med, og der hvor jeg vil hen er at når du "nægter" at gøre ting der er godt for dig selv, så som at sætte noget musik på dig kunne gøre dig glad, og du påstår at du "ikke er i humør" til at sætte glad musik på, så er det fordi at du har modstand på det.
Da jeg udskød mine spejløvelser var det fordi jeg havde modstand på det, og nu hvor jeg udskyder at få implementeret de her sølle 15 minutter med meditation hver morgen, som jo skal hjælpe mig til at få det bedre og finde mere indre ro og balance, så er det også fordi jeg har modstand på det.
Hvorfor har jeg det, når nu det skulle gøre mig så godt?
Det skal jeg sige dig, det er fordi det er uvant…
Det uvante giver en ubehagelig følelse i kroppen.
Ikke en man sådan mærker på samme direkte måde som hovedpine eller mavesmerter, men bare sådan en ej-jeg-tror-sgu-jeg-gemmer-det-til-en-anden-dag følelse.
Den kaldes modstand.
Det er kroppens måde at fortælle dig på at den ikke kan lide det. Det føles ikke rart, trygt og velkendt. Eller det er lidt for mærkeligt. Eller akavet. Eller krævende.
Vi er vanedyr og alt nyt er meget "skræmmende" og "farligt" og derfor arbejder din krop og dine følelser imod dig.
Følelsen kroppen giver får overbevist dig om at du skal tænke:
"Jeg gør det en anden dag"
eller
"Jeg er ikke i humør til at høre glad musik"
eller
"Jeg har slet ikke overskud og tid nok til at nå at få trænet"
eller
"Det er svært at spise sundt når jeg har så travlt som jeg har"
eller
"Det er umuligt at finde en kæreste når man ikke er 25 længere"
…. fortsæt selv listen.
Men nu skal jeg fortælle dig en lille hemmelighed: Det du har modstand på, bliver ved at bestå i den tilstand det er.
Dvs hvis du er ulykkelig og har modtand på at blive glad, så vil du blive ved med at være ulykkelig. Også selvom du gerne vil være glad.
Og hvis jeg gerne vil lære at meditere men har modtand på at komme i gang, ja, så sker det jo aldrig, medmindre jeg holder op med at gøre modstand, og dvs stopper med at komme med undskyldninger for ikke at få det gjort.
Lige nu er min undskyldning at jeg ikke kan nå jorden med mine fødder når jeg sidder på sengen, og det duer ikke, så jeg skal have en skammel til mine fødder eller en stol jeg kan sætte mig over i…
Det her med at hvis du har modstand består din nuværende tilstand lyder i øvrigt laaaaaaaangt federe på engelsk, så du får den lige igen på engelsk:
…WHAT YOU RESIST, PERSISTS…
Hvordan genkender du denne modstand?
Jo, den viser sig faktisk på mange forskellige måder, som blandt andet beskrevet en ovenstående lille liste af "gode undskyldninger" som man siger til sig selv, ved at have en masse begrænsende tanker, ved at nægte at gøre noget godt for sig selv, og ved konstant at have fokus på det negative.
Så hvis du siger "Jeg kommer aldrig til at løbe 5 km med de her dårlige knæ", så kommer du heller aldrig til at løbe 5 km med de der dårlige knæ.
Og dine knæ vil formentlig blive ved med at være dårlige fordi du har modstand på at se -og nævne ikke mindst- alt det du rent faktisk kan med dine knæ lige nu, og du bliver ved med pr. konduite at omtale dem som "dårlige".
Bad medicine…
Si'r det bare…
Måske lidt provokerende sagt og for nogen også lige lovlig hokus-pokus-agtigt.
Men tro mig, hvis du arbejder på ikke at have så meget modstand og på ikke overgive dig til kroppens modstand, så sker der mirakler.
Jeg har selv et par eksempler fra mit eget liv og nogle ting der er sket for ganske nyligt, dem vil jeg skrive om i næste indlæg.
Muahahahahhaaaaaaaaa, cliff hanger!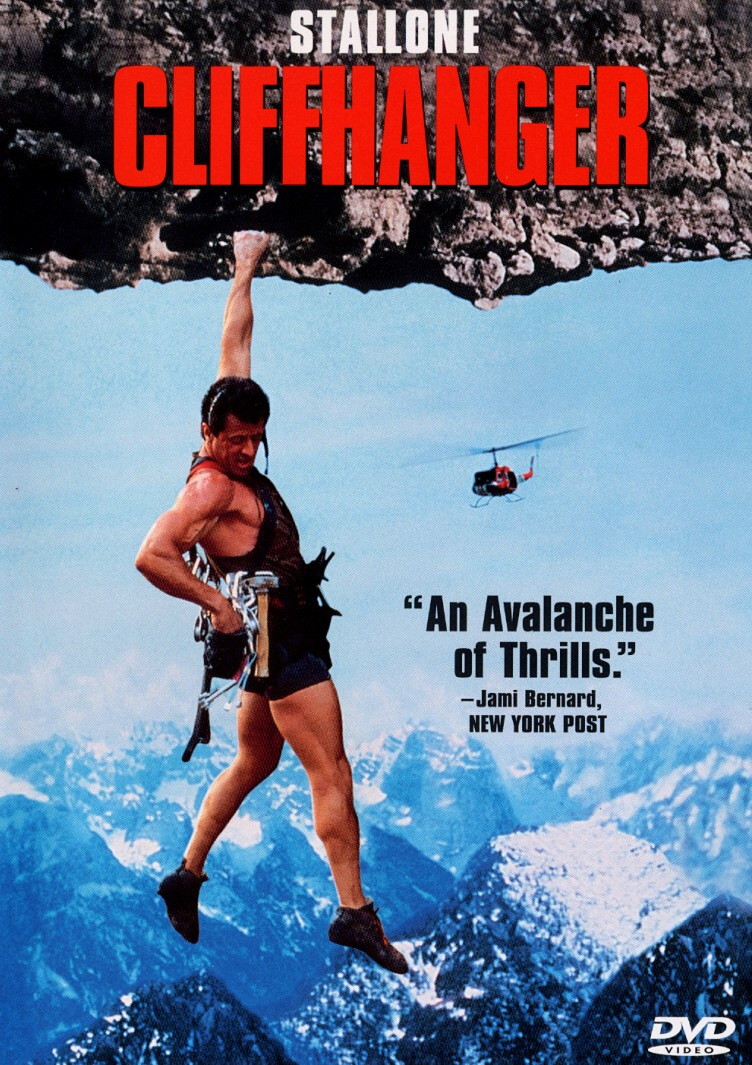 Fotograf: Cliffhanger The Movie
Men tro mig, jeg kender denne her modtand alt for godt, for den har fulgt mig gennem hele livet. Derfor har det, hvor absurd det end lyder, været nemmere for mig at lide end at have det godt…
Ja…
Helt seriøst…
Jeg har skubbet folk der elskede mig fra månen og tilbage igen væk. Jeg husker tydeligt en kæreste jeg havde da jeg var i starten af tyverne. Han var smuk som en drøm, og verdens sødeste fyr. Et godt menneske hele vejen igennem, og det vilde var, at han elskede mig helt og aldeles betingelsesløst.
Jeg begyndte at skubbe ham væk og fokusere på alt hvad der var dårligt ved ham, og eftersom der nærmest ikke var noget at sætte en finger på, så blev det til obskure ting som måden han spiste youghurt på.
…måden han spiste youghurt på…
Stakkels fyr…
Det var nu ikke noget jeg delte med ham eller sagde højt, men bare noget jeg selv fokuserede på. Rigtigt meget endda. Sygt…
Jeg kom længere og længere ud i vanvittige ting der var "galt med ham" og kunne til sidst ikke holde ud at kigge på ham og væmmedes ved tanken om sex med ham.
Forfærdeligt. Både for ham med i særdeleshed også for mig selv…
Jeg er sikker på at både hans venner og familie ikke syntes at jeg fortjente ham. Det gjorde jeg måske heller ikke, og jeg fik da også -mod hans vilje- skubbet ham ud af mit liv. Efterfølgende brugte jeg mange år på at fortryde og være ked af det. Sygt. Virkelig sygt…
Som om jeg ville have det dårligt… Jeg ville svigtes… Jeg søgte smerten, lidelsen og ked-af-det-heden for det var den følelse jeg kendte bedst…
Ligeledes gik det med den kæreste jeg havde fra jeg var 27 til jeg var 30. Sød, sød fyr, lækker som bare pokker og vildt forelsket i mig, og ville gøre alt for mig…
….Men fuldstændigt samme historie gentog sig.
Jeg kunne ikke…
Jeg skubbede ham væk fra mig ved at fokusere så meget på alle hans "fejl og mangler" at jeg til sidst ikke kunne holde ham ud…
Igen, jeg søgte -ubevidst selvfølgelig- følelsen af svigt, sorg og ked-af-det-hed fordi jeg ikke kunne håndtere al den kærlighed jeg fik.
Jeg kunne ikke finde ud af at have det godt…
Det var uvant.
Det var som om at hvis han ikke selv svigtede mig og forlod mig som følge af hvor dårligt jeg behandlede ham, så gjorde jeg det selv.
Forlod ham…
Svigtede ham…
Denne ex brugte jeg, efter vores brud som jeg i øvrigt selv stod for, intet mindre end 10 år på at gå og være ked af…
Selvom jeg selv var gået…
WTF!?
10 år som single. En single der vel at mærke gik og fokuserede på alt det negative og på at alle de gode mænd var optagede og på at der ikke var nogle steder hvor jeg kunne møde en, og på hvor "u-rigtige" de var dem jeg mødte osv osv osv.
Samtidig med at jeg var bitter over at mit seneste forhold var endt. Selvom det var mig der sluttede det, og selvom jeg var fyldt op med fokus på alle hans "fejl".
Kæmpe dilemma, jeg ville have ham men jeg ville ikke have ham alligevel…
Ikke så underligt at der gik 10 år…
Men så begyndte jeg at fokusere på mig selv, på at have det godt, og jeg begyndte at tage på rejser alene, tage på sommerophold på Oure, dyrke crossfit, stå på wakeboard, få nye venner, og så skete der altså ting og sager, så var det pludselig ikke så svært at møde mænd.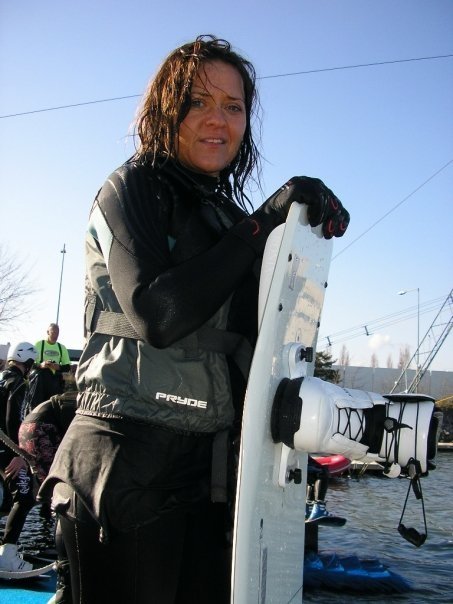 Men jeg har åbenbart stadig ikke været helt "klar", for det er jo som bekendt gået galt igen.
Det er ikke fuldstændigt samme historie som de to andre, men der er da elementer af det og det var heller ikke mig selv der sluttede forholdet, selvom jeg naturligvis har været medvirkende til at det skete.
Jeg sad i dag og sludrede med en veninde om det her fænomen med modstand, og hvordan den helt grundlæggende begrænser os fra tage imod kærlighed eller føle glæde.
Hun fortalte at hun engang var gået i gang med at skrive en taknemmelighedsdagbog, som et led i et arbejde på at få det bedre med sig selv. Hun var gået helt bananas og blev bedre og bedre til at finde alle mulige små ting som hun var taknemmelig og glad for, og selvom hun kun skulle skrive tre ting ned hver dag blev det pludselig til mange flere måske 12-15 ting hver dag eller mere.
Dét gjorde underværker.
Der skete et eller andet med hende, sagde hun.
Lige pludselig oplevede hun at fremmede -mænd- sagde "hej" til hende på gaden og at hun fik ualmindeligt megen positiv opmærksomhed, og det kunne hun slet ikke håndtere, det var hun slet ikke klar til.
Så hun stoppede!
Er det ikke vildt!?
Hold kæft hvor ærgerligt ikke…???!
Tænk engang at man kan have modstand på at have det godt.
Men det kan man altså.
Hvis den programmering du har fået som barn i høj grad indeholder lidelse, smerte, ked-af-det-hed, svigt, mobning, forladthed osv. så vil disse være trygge følelser for dig.
Absurd ik´?
Og hvis du har fået ad vide at du var grim, dum, ligegyldig, næsvis, uønsket, uelsket, uværdig osv, så er dét virkeligheden for dig, og du vil have svært ved at få noget andet ad vide eller tage i mod komplimenter.
Kender du f.eks. typen man siger "Gud hvor er det en fed kjole du har på" til, og hun så svarer "Nåååååårh, jamen det er bare en H & M", eller hende du siger "Hold kæft hvor ser du godt ud i dag" til og hun svarer noget i retningen af "Åhr, jeg ser da så træt ud, se lige de her poser under øjnene jeg render rundt med"??
Jeg kender godt typen.
Jeg har nemlig selv været hende.
Hende der taler sig selv ned.
Hende der ikke under sig selv at være elsket.
Hende der ikke synes hun fortjener et kompliment.
Og er det nok til dels stadig, men jeg arbejder på at  gøre hende til fortid…
Du kan vælge dine tanker, så vælg dem med omhu, særligt  dine tanker om dig selv.
Og se så at komme hen foran det spejl!
Når jeg kan, så kan du også.
Kærlighed er også et valg, så vælg at fokusere på din partners gode kvaliteter og ikke på hans/hendes fejl.
/Hannah <3