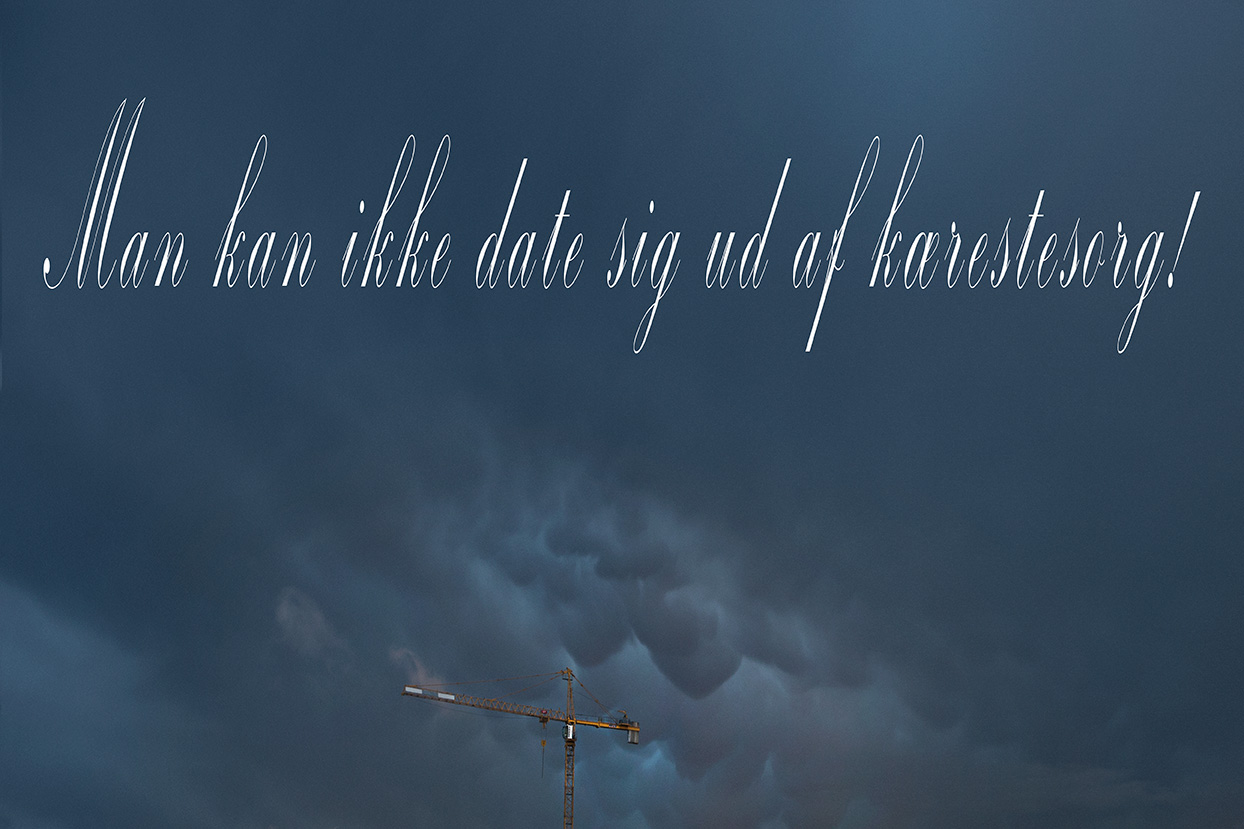 For nogle weekender siden var jeg til en tøsejulefrokost med efterfølgende bytur på plakaten.
Jeg har ikke været ude og føjte og feste siden mit brud, for jeg har ganske enkelt ikke haft lyst.
Men NU var jeg klar.
Jeg har gjort mig selv den tjeneste og undladt at tage til fester og sidde og ladet som om jeg havde det sjovt*, undladt at gå i byen blot for at få opmærksomhed, undladt at hoppe på alskens online datingmedier blot for at blive bekræftet eller finde et passende rebound.
(*  Jeg tog faktisk af sted til en venindes 40-års fødselsdag i sommers, men jeg havde det så skidt at jeg blev nødt til at gå inden desserten var blevet serveret. Min veninde forstod mig fuldt ud og det var det bedste jeg kunne gøre for mig selv den aften, men i det mindste havde jeg forsøgt)
Selvom det umiddelbart kan virke fristende at kaste sig i grams eller sidde og bladre hvileløst igennem profiler på Tinder og Happn, så har jeg holdt mig væk. Væk fra byen og væk fra dating, indtil jeg ikke længere var ked af det. Indtil jeg ikke længere havde ondt i mit hjerte. Indtil jeg følte mig klar og vitterligt havde lyst.
Dét har virkelig været en god beslutning.
Det betød nemlig at da jeg så endelig gik ud, gav jeg den 100% gas med de her tøser og jeg følte mig tilpas, tilfreds og parat!
Søndagen efter, not so much… Fosterstilling, kvalme og hovedpine hele dagen, men dét er en helt anden snak ;-D
Byturen var en succes, og ligesom med så meget andet, så er det alfa omega for motivationen at man har haft en succesoplevelse. Ellers går man kold i det.
Sådan er det også med byture og onlinedating som ikke har være gode oplevelser, man bliver bare mere ked af det, mere forvirret og selvværdet får endnu et hak nedad.
Sjovt ser det ud, og det var det også! Fotograf: Private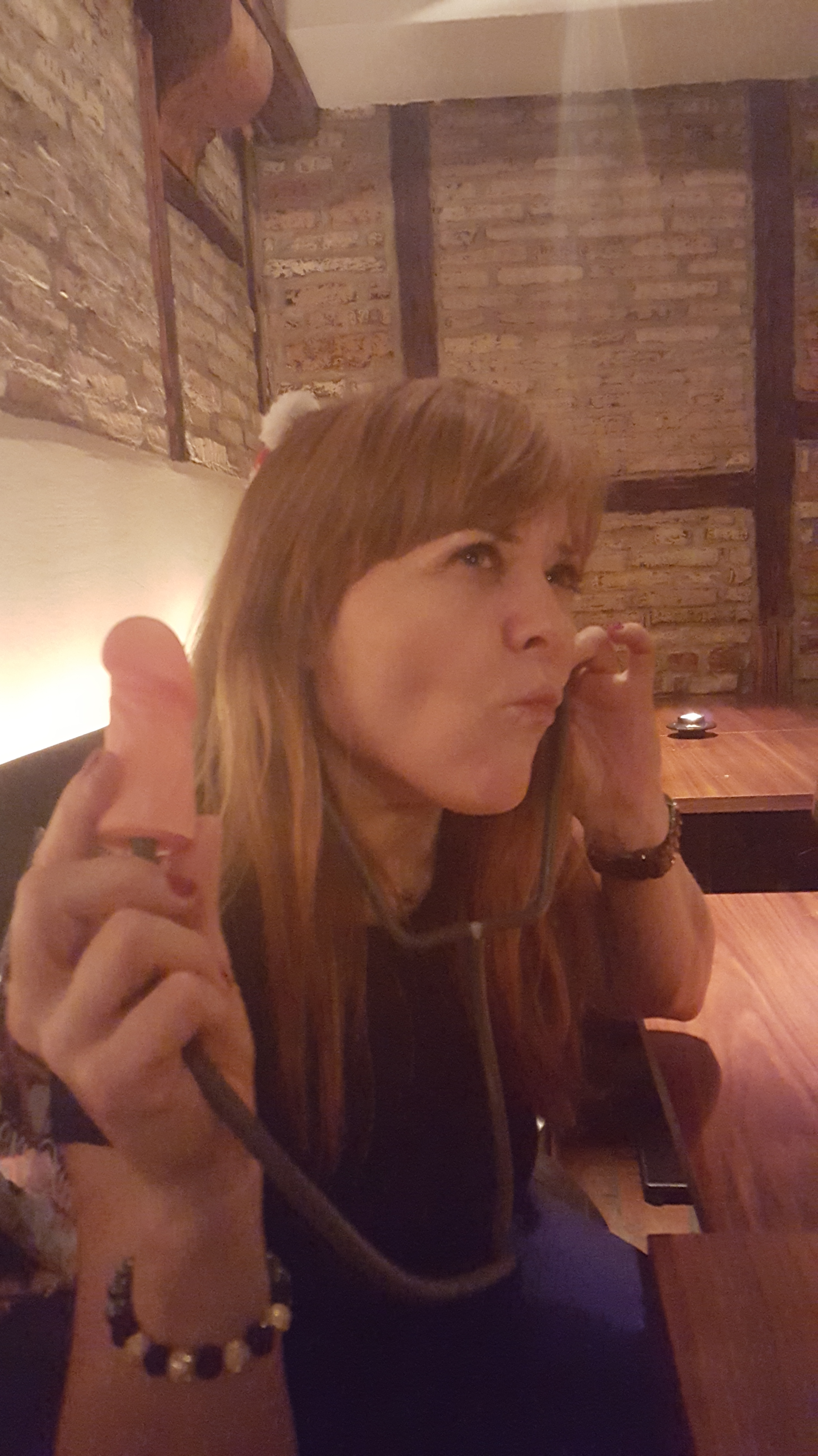 Tidligere har jeg kastet mig ud i vilde drukture og onlinegrams alt for hurtigt efter bruddet og det har ikke gjort mig andet end endnu mere ulykkelig og fortvivlet.
I de fleste af mine tidligere forhold har det været mig der har truffet beslutningen om at afslutte forholdet, men det har faktisk ikke gjort det nemmere at fare i byen og snave tilfældige fremmede i gulvet, mase "Nice-Guy 38" i madrassen eller for den sags skyld gjort mig mindre ked af det…
Tværtimod.
Og dermed har det altså heller ikke gjort mig mere rede til det vilde single-party-dating-liv, selvom man måske kunne tro det.
Point being: Uanset om du bliver forladt eller det er dig der forlader… Take a break!
Min tidligere ex -Max- gik jeg og var trist over i ti år!
10 år…
Og det var mig der skred…
Anyway, nu går der lige lidt videnskab i den:
For det er nemlig videnskabeligt bevist at kærlighedshormonet oxytocin blandt andet udskilles ved kropslig kontakt og at oxytocin niveauet sænkes når man går fra hinanden. (Muligvis pga den manglende kropskontakt)
Det gør at man naturligvis -instinktivt- vil søge at få niveauet op igen, og kroppens eget lykkehormon serotonin udskilles blandt andet når vi føler begær, derfor kan det føles som en mææægtig idé og en rigtig god "trøst" at kaste sig over et nyt bekendtskab.
For mit eget vedkommende har det dog blot været som at tisse i bukserne for at holde mig varm.
Det gjorde mig ingenlunde lykkeligere.
Den bekræftelse jeg fik, var kun kortvarig og løste ikke mine kærlighedskvaler.
De "forhold" jeg havde varede heller ikke ved, fordi jeg ikke selv var klar og befandt mig i et stadie af desperation, så de mænd jeg tiltrak var -naturligvis- de forkerte…
Man skal være åben, modtagelig og lykkelig når man skal indlade sig på et forhold, ikke desperat, ulykkelig og med ondt i selvværdet.
Faktisk kan nogle mennesker opnå at få højnet niveauet af oxytocin -kærlighedhormonet- uden en ny romance, men i stedet ved kontakt med dyr.
Når du aer, klapper og klør dyret bag ørene giver du den kærlighed du ikke kan give til din partner mere, fordi I er gået fra hinanden, og dette kan for nogen altså hæve mængden af kærlighedshormonet i blodbanerne.
Jeg er slet ikke i tvivl om at mine to små katte Høre-Mis og Døve-Mis har gjort underværker for mig.
De har givet mig ro og tryghed og jeg har kunnet kramme dem når jeg trængte allermest til at kramme nogen.
Bare lyden af dem er beroligende.
Dermed ikke sagt at du fluks skal fare ud og købe dig et kæledyr, det ville være helt uforsvarligt.
Dyr er ikke legetøj men levende væsener der kræver tid og pleje og koster penge.
Men du kan måske passe din venindes hamster, gå en tur med en vens hund eller tage hjem og klø din mors kat bag ørerne.
Tjek lige denne artikel i øvrigt!
En anden god medicin mod kærestesorg er at få rørt sig.
Jeg ved at det kan synes nærmest umuligt når man ikke kan være i sig selv af bar ulykkelighed!
-og måske er du en af dem der -ligesom mig- får kvalme, og halsen lukker sig sammen så man har svært ved at trække vejret og angstsymptomer hamrer derud af i brystkassen så man slet ikke kan holde tilværelsen ud.
MEN, når du bevæger dig sker der altså nogle ting i din hjerne som gør at du lettere kan håndtere udfordringer.
Det er altså vigtigt at få bevæget os. Så prøv at prioritere det på trods af hvordan du har det. Bare gør det. Start blidt.
Her har jeg fundet at yoga, crossfit og ocr løb (forhindringsløb)har gjort underværker for mig.
(Jeg har tidligere beskrevet hvordan jeg startede stille og roligt, det kan du læse om her)
Det er nemlig også sportsgrene der kræver en høj grad af fokus og koncentration -og dermed nærvær- hvilket betyder at mit fokus blev flyttet fra kærestesorg til koncentrationen om for eksempel at holde balancen, udføre en øvelse teknisk korrekt eller overvinde angsten for en bestemt forhindring  som for eksempel kunne være at skulle klatre over en 5 meter høj væg…
Når jeg er midt i dansers pose eller skal lave 10 hang power cleans på tid eller skal kæmpe med min skræk for forhindringen "Dragons Back" er det simpelthen ikke muligt at tænke en eneste tanke om ex'en eller bekymre mig et sekund om fremtiden. Når jeg er i det, så er der kun det.
Kun nuet.
Kun lige nu og her.
For mig har det afgørende for at jeg kom videre også handlet om at måtte erkende at jeg ikke elskede mig selv…
…og dybest set aldrig har gjort det…
– Og få gjort noget ved det.
Få-gjort-noget-ved-det!
Det er selvsagt ikke noget jeg "bare lige gør".
Som jeg har snakket om tidligere så er det 42 års programmering der skal laves om.
Det er alt det jeg indtil nu har opfattet som sandhed, jeg nu skal indse ikke længere er sandt…
Helt grundlæggende, så har jeg lavet om på mine tankemønstre.
Særligt de tanker jeg gør om mig selv.
(Lad mig lige pointere at jeg ikke er færdig med det, og jeg bliver aldrig færdig med det, det er et livslangt projekt som altid kan finpudses og justeres)
Tankens kraft er enorm..
…og du vælger selv dine tanker…
Jeg har sagt det før i andre blogindlæg, og jeg kommer til at sige det mange gange endnu:
Du – Vælger – Selv – Dine – Tanker !!!
Du styrer hele din opfattelse af hvordan dit liv er, lykkeligt eller ulykkeligt, med dine tanker…
Nogen vil protestere og sige: "Jeg vælger da ikke selv at tænke at jeg er grim, det kommer jo bare helt automatisk"
Ja, tanken kommer helt automatisk fordi den er indkodet i din krop. Ligesom pinkoden til dit dankort.
Du kan stå i en situation hvor du simpelthen ikke kan huske din pinkode når du bliver spurgt, men når du så kommer hen til tastaturet på dankortautomaten, så taster du koden fuldstændigt pr. automatik.
Fordi din krop har husket koden.
Din hjerne behøver ikke længere kunne huske den. Den sidder programmeret i kroppen.
Sådan er det også med vores tanker.
Så hvis jeg har fået ad vide gentagne gange som barn at jeg var grim, så har jeg taget det til mig som sandhed og så behøver jeg ikke længere spørge andre om jeg er pæn, for jeg ved jo godt selv at jeg er grim…
Og uanset hvor mange gange jeg senere i livet får ad vide at jeg er smuk, vil jeg altid selv synes jeg er det modsatte.
MEDMINDRE jeg selv begynder at "omkode" den gamle sandhed.
Det er kun mig selv der kan gøre det.
Kun mig selv.
Ikke andre.
Lige gyldigt hvor meget andre prøver at banke en anden sandhed, end den jeg er programmeret med, ind i mit hoved, vil de aldrig kunne lave min egen opfattelse om.
Lige såvel som at hvis vi ikke elsker os selv, kan andre elske os nok så meget, det vil aldrig helt være tilstrækkeligt…
Det-vil-aldrig-helt-være-tilstrækkeligt!
Vi vil aldrig helt føle os elskede…
Man skal kunne elske sig selv først!
Got it?
For at kunne omprogrammere den gamle sandhed kræver det at du gør noget nyt.
Tænker nye tanker.
Du skal ændre dig.
Du skal ændre din personlighed.
Simpelthen.
Ellers sker der lige nøjagtigt ingenting.
Du kommer ikke til at ændre på noget ved at fortsætte med at gøre det du altid har gjort.
Selvom du nu måske er blevet bevidst om at det er vigtigt at elske sig selv og vigtigt at tænke positive tanker, så ændrer det ikke på en flyvende hattefis hvis ikke du ikke også begynder at gøre noget anderledes end du plejer.
På engelsk siger man om hjerneceller:
The cells that fire together, wire together.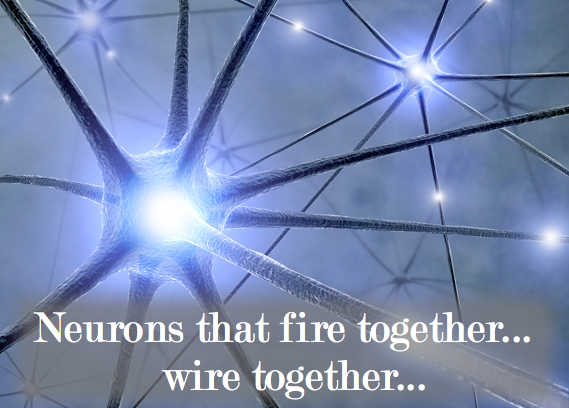 Så hvis jeg vil ændre på den kobling i hjernen der gør at jeg selv synes jeg er grim, så er jeg nødt til at ændre på de forhold og tanker der skaber koblingen. Ellers fortsætter det bare som det altid har gjort.
Dvs at når der opstår en situation hvor jeg tænker jeg er grim, eller en situation hvor jeg føler mig udenfor og svigtet, så skal jeg straks overskrive tanken med en ny. En positiv tanke om det gode ved hændelsen. Og her gælder reglen "fake it til you feel it!"
Det gælder også i sammenhænge hvor jeg ikke kan lide at sige fra og i stedet begynder at please, der er jeg nødt til at vende mine tanker om undlade at please.
Hvor svært og angstprovokerende det end måtte være.
Jeg har tidligere snakket om at jeg har arbejdet med netop dette punkt, ved hjælp af spejløvelser, altså øvelser hvor jeg stiller mig foran spejlet -som oftest nøgen- og skal sige noget pænt til og om mig selv.
Jeg kunne ikke bare lægge hårdt ud med at sige "jeg elsker dig" eller "du er satme smuk", for som jeg tidligere har beskrevet føltes det vildt akavet og ubehageligt.
I stedet startede jeg i det små, blandt andet ved at takke min krop.
Takke den for at have taget alle de tæsk jeg fik som barn.
Takke den for at bære mig igennem livet.
Takke den for at være stærk og tillade at jeg kan foretage mig alle de vilde ting jeg gør med f.eks OCR og Crossfit og bare tage imod alle de blå mærker jeg forvolder den med når jeg er ude på mine vilde vover.
Det gav mig en enorm respekt for mig selv og min krop, og pludselig blev det lettere at sige at jeg elskede hver en centimeter af den og hver en lille cellulitebule, og også mene det helt oprigtigt!
Det gjorde at jeg kunne begynde at gøre det samme med min personlighed og mit udseende (i ansigtet)
Jeg begyndte at sætte pris på ting jeg havde gjort for mig selv.
Takke mig selv for at have læst bøger der gjorde mig klogere på mig selv.
Takke mig selv for at tage til yoga og træning.
Takke mig selv for at tage på meditationskurser.
Takke mig selv for at have haft fokus på positive ting.
Osv osv.
Langsomt kunne jeg begynde at sige til mig selv at jeg var pæn.
Det føles dog stadig en smule akavet og der er stadig et stykke vej. (Fake it til you feel it!)
Jeg har også fået sagt til mig selv at jeg elsker mig, og nogle gange har det føltes enormt akavet, andre gange meget ægte og oprigtigt.
Der skal arbejdes for sagen.
Hvis jeg ikke gør det, så ændrer jeg ingenting.
Hvis jeg ikke gør en hæderlig indsats for at se det positive i alle situationer, så får jeg aldrig ændret på mine mønstre. Aldrig.
Jeg har nogle skide gode eksempler på hvad en 180 graders vending af min tankegang omkring en helt konkret situation, radikalt ændrede situationen til det bedre.
Er det tilfældigt?
Det ved jeg ikke…
Men jeg er da helt klart villig til at eksperimentere noget nærmere med det, efter de oplevelser.
Jeg vil beskrive dem i mine næste blogindlæg og det er faktisk sådan at jeg har lovet det før i blogindlægget "Det er nemmere at lide" og bare efterladt Jer med den cliffhanger og så er jeg bare kommet fra det i mellemtiden fordi jeg pludselig fik en masse respons fra læsere som jeg simpelthen blev nødt til at dele med jer, blandt andet i indlægget "Ensom og desperat" hvor jeg deler en mandlig læsers tanker og refleksioner og i "Mor, hvorfor elsker du mig ikke" hvor jeg deler min og en kvindelig læsers mailkorrespondance.
Anyway, i de kommende indlæg skal jeg nok løfte sløret og så kan du jo selv bedømme om du synes det er "tilfældigheder" eller ej.
I hvert fald er det her med at få anvendt sin viden en vigtig brik i puslespillet hvis det skal "virke".
Det virker ikke bare fordi du læser en bog.
Jeg kender folk der har arbejdet med personlig udvikling og spiritualitet i årevis, altså meget længere end jeg har  -herregud, jeg er jo kun lige begyndt for nogle måneder siden- og som har læst mange flere bøger om emnet end jeg har og endda anbefalet mig litteratur jeg skulle læse, terapeuter jeg skulle se og metoder jeg skulle afprøve, som stadig selv har det skidt og som stadig banker sig selv i hovedet med alle deres "fejl og mangler" og alt det de ikke har, ikke kan og ikke vil. Som stadig taler -umådeligt- grimt til sig selv og som stadig har dybt selvdestruktive og negative tankemønstre, simpelthen fordi de ikke får det de har læst om, integreret og anvendt i deres hverdag…
Og det er sgu da også dét der er det sværeste!
Men lov mig, at hvis du er en af dem der har det skidt indeni og er hård ved dig selv, så GØR noget.
Please!
De er sandsynligvis røget i den fælde hvor man er helt høj af motivation over en bog man har læst, eller helt hyped over en podcast  hvor en masse fede metoder man bare skal prøve er blevet leveret på et sølvfad, eller helt oppe og ringe over en ny vinkel eller et nyt perspektiv en terapeut har fået fremsat på nogle issues man har døjet med i en menneskealder…
…Og så går der lige nøjagtigt 2 dage med det "high"…
…Og så er alt tilbage ved det gamle…
For du får ikke lavet de øvelser du skulle.
Du får ikke implementeret det du læste dig til.
Og du glemmer alt hvad terapeuten lige har sagt…
Eller rettere, du glemmer det måske ikke ligefrem, men du efterlever det heller ikke.
Hvorfor?
Fordi kroppen bedre kan lide tingene på den gamle og vante måde.
Også selvom den er skidt for dig.
Det kender den.
Det kan den udenad.
Den skal ikke bruge noget tankevirksomhed eller energi på at gøre ting "the old fashioned way" så det er meeeeeget lettere.
Derfor udskyder du "projektet" til "en dag hvor du har mere overskud", eller til en mandag, eller til d. 1., eller til nytår og ergo bliver det aldrig til noget.
Hurtigere end du kan nå at stave til "personlig udvikling" er du tilbage i den gamle trummerum hvor du taler grimt til dig selv og kører derudaf med selvdestruktiv adfærd og ganske få  -om nogen- høje tanker om dig selv og dit værd.
Ærgerligt.
:'(
Det er som at gå på en slankekur i 2 måneder, tabe en masse kilo, for så bare at ryge tilbage i de gamle spisevaner, og tage hele lortet -plus det løse- på igen.
Fjollet.
Og endnu et incitament til at du nu igen kan slå dig selv oven i hovedet med hvilken fiasko du er…
Jeg gik allerede i gang med at læse bogen "Rewire your brain" inden mit forhold til min ex var helt forbi. Jeg bestilte Peter Levines bøger inden jeg vidste om min kæreste ville stå fast ved sin beslutning om at det skulle slutte.
Hvilket han jo gjorde.
Jeg gik i gang med det her arbejde fordi jeg ville ham så inderligt…
Men jeg lovede mig selv at uanset om han ville "stadfæste" sin dom over vores forholds endeligt, så ville jeg gå videre med arbejdet.
For min egen skyld.
Men også for det næste menneske jeg skal leve sammen med's skyld…
Jeg lovede mig selv at jeg ikke ville gå i stå og at jeg skulle gå i dybden med alt hvad jeg læste og lyttede mig til.
Jeg lovede mig selv at det ikke bare skulle være et midlertidigt flip.
Jeg lovede mig selv at jeg aldrig igen skulle igennem så stor en smerte og lide så stort et knæk.
Og jeg har været 100% tro mod det løfte jeg gav mig selv dengang.
Vel vidende at nogen vil påstå at jeg ikke selv kan være herre over om jeg vil komme til at opleve lige så stor en smerte igen og lide et lige så gevaldigt knæk igen, så vil jeg faktisk -hårdnakket- argumentere for at det er jeg faktisk helt 100% herre over.
I processen har jeg nemlig lært hvor meget magt mine tanker har haft over mig og alt hvad jeg er, siger og gør og at det er mine tanker der former min personlighed og ikke mindst min virkelighed.
Jeg har også lært at jeg selv kan styre disse tanker så selvom det blev programmeret ind i mig da jeg var barn at jeg var grim og at den opfattelse kører helt på autopilot, så kan jeg godt træffe et valg om at nu skal jeg tænke at jeg er smuk.
Det kan da godt være at jeg ikke mener det til at starte med, men så var det at jeg startede i det små som ovenfor beskrevet, og langsomt men sikkert bliver jeg bedre og bedre til at tænke gode ting om mig selv.
Disse gode tanker om mig selv er helt fundamentale for om jeg opnår lykke.
Lykken skal nemlig ikke findes i vores ydre omgivelser, hvad enten det er et andet menneske eller materielle goder.
Lykken skal findes indvendig.
Det her gælder ikke kun for mig. Det gælder også for dig.
Vores tanker har en afsindig magt over os.
Men vi kan vælge hvad vi vil tænke.
Og det er afgørende for om vi lider eller er lykkelige.
Jeg siger ikke at fordi jeg vælger at tænke noget godt om mig selv en enkelt dag foran spejlet, at så er den hellige gral velforvaret og fra da af er alt bare lutter lagkage.
Det kommer ikke til at ske.
Indlysende.
Men jo oftere jeg gør det her, og jo oftere jeg vælger at tænke positivt i alle mulige andre henseender også, jo mere vil gode og positive tanker fylde min hverdag, og jo flere vil pludselig helt automatisk begynde at komme.
Prøv selv!
Det kan varmt anbefales.
Husk, at hvis du ikke gør noget nyt.
Så ændrer du ingenting.
Absolut ingenting.
Sæt i gang!
/Hanne <3
Er du med mig i det nye år?
Eller hvad med nu?