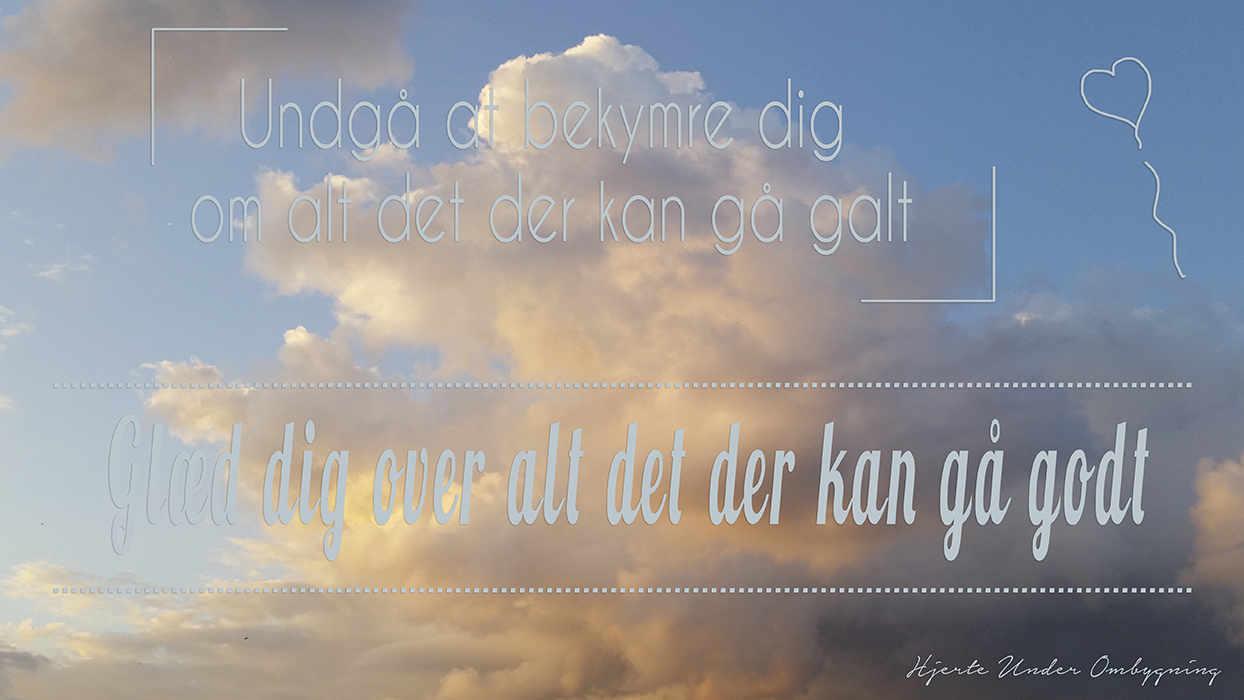 Lao Tzu har sagt:
Hvis du er deprimeret
Så lever du i fortiden
Hvis du er angst
Så lever du i fremtiden
Hvis du er fredfyldt
Så lever du i nuet…
Der er simpelthen så mange sandheder i de ord og jeg tror at langt de fleste af os kan se meningen med dem når vi kigger nærmere efter.
Jeg ved i hvert fald fra egen erfaring, at det med at se mig selv som et offer for alt det jeg har været igennem, var som  at leve livet i fortiden.
Det var en stille accept af at "sådan er jeg".
Men…
Jeg får ikke tæv mere.
Jeg bliver ikke mobbet mere.
Ergo skal jeg ikke længere være hende der får tæv og bliver mobbet.
Det er passé.
Det var dengang.
Det er ikke nu.
Nu er nu.
At leve i fortiden på den måde gjorde mig ked af det. Og selvom jeg ikke ligfrem gik og græd hele tiden eller hang med mulen konstant, så var jeg i bund og grund et menneske der bare var ked af det.
Helt ind i knoglerne.
Uden at jeg rigtigt vidste hvad jeg skulle gøre ved det…
Og uden at jeg egentlig vidste hvad det var der gjorde mig så ked af det…
Men nu ved jeg at jeg levede livet for meget igennem min fortid.
I dag ved jeg, at det der skulle til var at give slip, tilgive og komme videre.
Og nu ved jeg -efter 43 år- præcis hvordan man gør, og det deler jeg med dig.
Jeg ved også at når jeg tager sorgerne på forskud, er det at udsætte mig selv for unødvendig pine og plage.
Hvorfor bekymre sig om noget der ikke er sket endnu?
Noget der måske aldrig sker?
Det er en dårlig vane at gå og forvente skader, ulykker og dårlige tider blot fordi man har prøvet det før:
For hvem siger at det sker denne gang?
!!Bare fordi der er sket noget dårligt før, behøver det ikke ske igen!!
Jeg har haft perioder hvor min forretning gik så dårligt at jeg allerede midt på måneden bekymrede mig om hvordan jeg dog skulle betale huslejen om 14 dage.
Men jeg udsatte mig selv for unødvendig stress.
Fordi, lige nu og her var huslejen jo betalt.
Så jeg burde bare nyde lige nu og her.
Lige nu og her var alting godt.
Ingen kan vide hvordan det ser ud om 14 dage.
Jeg kunne måske nå at få 2 lækre jobs der fint ville dække huslejen den 1.
Det kunne også være at jeg fik 0…
Men så måtte jeg jo tage den til den tid.
Det giver ingen mening at tage den lige nu og her hvor alt er godt, og gøre mig selv bekymret over noget der kan gå galt, men som måske slet ikke vil gå galt.
Også selvom jeg  før har erfaret at det gik galt.
Men før er ikke nu!
Nu er nu.
Og lige nu er alt godt…
At bekymre sig på forhånd skaber tristhed og giver mavepine.
Jeg ved i dag at jeg skal huske at bevare en stærk tro på at alting går som det skal, at alting løser sig.
Og jeg ved også at at når jeg forventer noget godt, så kommer der mere godt.
At have tillid til at alt går godt skaber glæde og giver lykkefølelse.
Læs evt Cliffhangeren – Et blogindlæg om præcis det her.
…
Tanker er ikke bare stærke, de er BOM stærke, og nu ved jeg at jeg kan bruge dem til min fordel ved at dyrke Pronoia i stedet for Paranoia.
Paranoia er -som de fleste ved-. troen på at alt og alle er ude efter dig og vil have dig ned med nakken. Det er en tro på at livet sker imod dig.
Pronoia er troen på at alt altid sker til din fordel og at alle arbejder med dig. Det er en tro på at livet sker for dig.
❤
Det du lige har læst var en af de gamle Søndags-Support'er, vil du med  på listen og få lignende "peptalks" sendt direkte til din indbakke hver søndag?
Så meld dig til her: Søndags-Support sign-up.
Det er helt gratis. ?
Og du kan altid melde dig fra igen hvis det alligevel ikke er noget for dig.