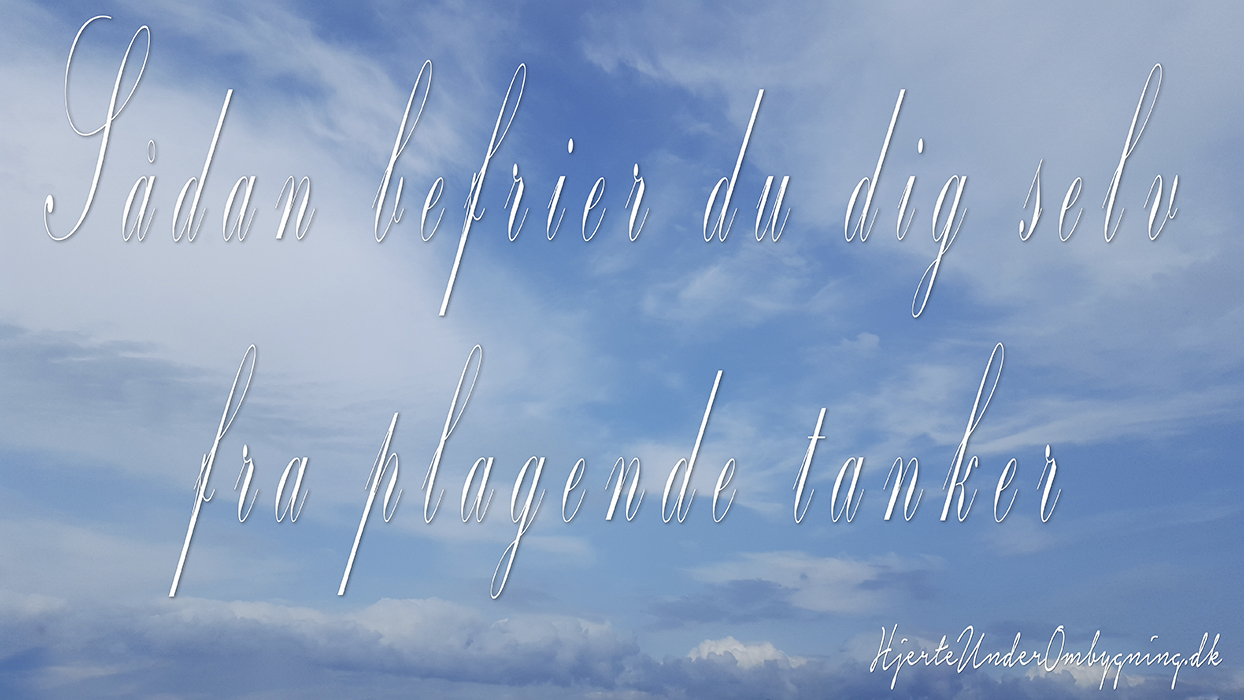 Kære læsere,
I dag har jeg valgt at dele en mail fra en læser som havde det rigtigt svært da hun skrev til mig.
Jeg ved at hun ikke er alene om at stå i en bund-ulykkelig situation som bare føles håbløs og uoprettelig.
Men der er håb.
Du får mailen her:
"Hej!
Jeg vil bare sig dig tak fordi at du deler din historie, som rørte mig dybt.
Især fordi jeg selv står midt i noget lignede. Min kæreste forlod mig mens jeg var indlagt på psykiatrisk afdeling. Jeg fik en voldsom reaktion fordi vi havde snakket om at få børn, samtidig var jeg lige startet i et stressende job. Jeg er vokset op med psykiske overgreb fra en ustabil mor der var meget manipulerende. Så tanken om at skulle være mor satte et væld af tanker, angst, svigt osv igang. Nu står jeg uden kæreste, bolig, job – jeg er i slut trediverne og bor pt hos min far. Men hvis du kan komme videre tænker jeg at der også er håb for mig.
Tak."
Alene det at mailen er så kort, vidner om et menneske der er fuldstændigt drænet for overskud, men som heldigvis havde overskud til at række ud efter lidt hjælp alligevel.
Mit svar kommer her:
Kære "Læser",
Tusind, tusind tak for din søde mail!
Det betyder bare alverden at høre fra nogle af Jer der læser med. Det gør det det hele værd. <3
Hvor er jeg ked af at høre at du står midt i sådan en omgang lige nu. Det er så afsindigt hårdt for krop, sind og sjæl at gå igennem det du går igennem nu.
Jeg husker det selv, som var det i går…
Men STOL PÅ MIG når jeg siger at der er håb.
Jeg har også boet hos min mor da jeg var 35, det var da finanskrisen var på sit højeste. Der kom pludselig ingen jobs og vupti, så måtte jeg gå fra hus og hjem og bo på et 8 kvadratmeter "stort" værelse hos min mor, med mine to katte og en kattebakke. NOT FUNNY. Og mit mindset dengang var virkelig destruktivt og sortseende, så det var et sandt helvede at gå igennem.
Den eneste grund til at jeg er kommet så hurtigt ovenpå efter mit nederlag sidste år, er fordi jeg gik ind og tog ansvar.
Det gjorde jeg ved at arbejde med mig selv.
Det lyder sgu lidt højpandet, men det er virkelig sandt.
Jeg havde ikke troet det, men der var absurd meget ar arbejde med. Mange issues! Rigtigt mange.
Det jeg først måtte tage fat i, var selvkærlighed. Ja, det lyder skisme også lidt højtragende og klichéagtigt og jeg kan nærmest blive irriteret på mig selv bare over at læse den sætning jeg lige har skrevet. ?
Men jeg lover dig, de er alfa-omega for at kunne få det bedre indeni, både hvad angår kærlighed, bolig og job.
Så meget har jeg fundet ud af.
Jeg fandt ud af at lykke ikke er noget jeg kan "opnå" og at lykke heller ikke noget jeg skal gøre mig fortjent til.
Lykken bor latent inde i mig.
Og det har den hele tiden gjort, jeg har bare ikke vidst det.
Lykke er et "state of mind". Altså en sindstilstand på godt gammeldags, firkantet dansk.
Jeg opnår ikke lykken ved at finde "den perfekte kæreste" (som i øvrigt kun findes i film og lægeromaner) og heller ikke ved at få et fedt hus eller have "det rigtige" job.
Lykken kommer til mig når jeg langsomt men sikkert begynder at finde glæde ved de ting jeg har…
Og jeg -om nogen- ved godt at den kan være en udfordring.
Og dengang jeg boede på en madras på gulvet, med hele mit liv proppet ned i x antal blå IKEA poser, hos min mor, der havde jeg sgu lidt svært ved at finde glæde og se det positive i noget som helst ved mit liv. Job, bolig, kærlighed, ALT var bare "ad lort!" for at sige det lige ud.
Det var i hvert fald min opfattelse af situationen.
Mit mindset var simpelthen ikke gearet til, eller trænet til, at se anderledes på det.
Ganske enkelt.
Vores hjerne er programmeret til at være bedst til at "lagre" og huske de negative oplevelser og følelser, og skal jeg sige dig hvorfor?
Fordi dens fornemmeste opgave er at passe på os!
Helt tilbage til vores forfædres tid, der var "negative oplevelser" som regel noget der betød "fare på færde" oftest på "liv eller død"-måden, så derfor var det altafgørende at hjernen huskede de farlige, negative situationer, så den kunne genkende faresignalerne og reagere hurtigt når der igen opstod nye, farlige situationer.
Så når jeg nogle gange får følelsen af at føle mig holdt udenfor, eller får følelsen af at nogen taler grimt bag min ryg, så er det ofte bare spøgelser.
Spøgelser fra fortiden, da jeg stod i skolegården som 7-årig og blev holdt udenfor af de andre.
For mig -som "hjælpeløst" barn der ikke var livsklog nok til at håndtere sådan en situation- betød det "fare på færde" når de andre ikke ville lege med mig, fordi det jo gjorde mig ensom og trist, og det efterlod mig med en følelse af at jeg ikke var værd at være sammen med, og den følelse blev kun bekræftet yderligere når jeg kom hjem til et hjem med råben og skrigen og tæsk på menuen.
Oplevelsen fra skolegården og fra hjemmet blev lagret og programmeret dybt i mig, og det betyder at jeg reagerer så snart min hjerne registrerer en lignende "farlig situation".
Eksempel: Engang var jeg af sted på en gruppeferie hvor vi havde lejet tre biler til at transportere os rundt, og rent forsikringsmæssigt var det nemmest og billigst at det var de samme tre chauffører der kørte bilerne hele ugen, og jeg var den ene af dem.
En af dagene hvor vi skulle af sted på tur, så var der ingen der valgte at køre med mig. De sad hellere stuvet sammen i de to andre biler.
Ouch…
Hvad havde jeg nu gjort?
Jeg er i dag overbevist om at det ikke havde noget som helst med mig at gøre, men måske nærmere blot handlede om venindegrupperinger hvor "dem og dem gerne ville køre sammen", og intet om at de ikke ville køre med mig…
Men sådan opfattede jeg det.
Sådan valgte jeg at opfatte det.
Ja… Valgte!
For jeg havde jo rent faktisk et valg…
Jeg kunne jo godt have tænkt, "nåååårh, men de vil nok gerne bare sidde sammen de der tøser, og så kan jeg da lige benytte lejligheden til at slå et par store prutter og høre noget høj musik"
Men det gjorde jeg ikke.
Jeg kunne ikke.
For jeg havde ikke lært det.
Jeg havde derimod høstet nogle bitre erfaringer i skolegården, og nu gik mine bitre erfaringer ud over en gruppe mennesker som intet har med min fortid at gøre, endsige kender til den.
Og det stak mig i hjertet, hele den situation.
Jeg blev virkelig ked af det.
Og det udtrykte jeg -desværre- med vrede og surmuleri.
Og så gider folk jo slet ikke være sammen med en.
Bum! Der sørgede jeg lige selv for at det rent faktisk blev som i skolegården i 1982.
Så jeg skabte sådan set selv den situation jeg frygtede allermest.
Jeg skabte den med min reaktion.
En uhensigtsmæssig reaktion.
Og jeg kunne på ingen måde selv se det.
Jeg var -i mine øjne- et offer for andres tarvelige opførsel…
Så kan man så sige at jeg jo ikke kunne gøre for det.
Det var jo ikke ond vilje fra min side.
Tværtimod.
Jeg var jo den der var forurettet og ked af det.
Min reaktion kom pga en tidligere dårlig erfaring jeg havde haft.
Men vi ved allesammen godt hvordan det går med at reagere ud fra tidligere dårlige erfaringer, ikke?
Ikke specielt godt…
En velkendt klassiker er at lade al den smerte man har oplevet i et tidligere parforhold, gå ud over en ny partner, ved at projicere hensigter over på den nye partner.
Dvs. hvis man har oplevet at en eks-kæreste var utro og i hemmelighed havde sms'et med elskeren, så ser man rødt når den nye kæreste sidder og sms'er og man ikke ved hvem han/hun sms'er med.
Men det kan bare ikke nytte noget at man lader de dårlige erfaringer og den medfølgende mistro gå udover et andet menneske.
Okay, hvad er det så lige jeg vil sige med den lange smøre?
Det er jo egentlig blot for at forklare hvorfor det er så nemt for os at huske alt det negative, og meget sværere at huske det positive.
Det er simpelthen fordi det er vores hjerne opsat til.
Forud-programmeret om man så må sige.
For at lave om på det, så man kan reagere mere hensigtsmæssigt, så er man nødt til at lave radikalt om på den måde man tænker på og den måde man opfatter ting på.
Man er nødt til -først og fremmest- at lære at elske sig selv, jeg kan ikke sige nok gange hvor vigtigt det er, og man er nødt til at lære at tilgive. Både sig selv og andre.
Jeg har faktisk lavet en -synes jeg selv skidegod- lille video om hvordan man lære at elske sig selv. Du kan se den her:
Jeg har også lavet en om at tilgive og hvad det vil sige og hvordan man gør, se den her:
Når man langsomt begynder at gøre noget selvkærligt, så som de øvelser jeg nævner i videoen om hvordan man lærer at elske sig selv, og man begynder at tænke bedre tanker om sig selv, så er man automatisk meget mere motiveret for at gøre gode ting for sig selv.
Det er i hvert fald min oplevelse, og tro mig, jeg har været fyldt til randen af selvhad og selvdestruktiv adfærd, so I should know.
Når man har fået gang i selvkærligheden, så skal man tage fat i sine tanker.
*Note to self: Hvis man har helt styr på selvværdet og selvkærligheden, og dyrker det jævnligt, så springer man det led over og hopper direkte videre til "mindsettet". ?
Vores tanker styrer helt og holdent hvordan vi oplever vores liv, og dermed hvordan vi går og har det indeni.
Og vi kan godt ændre vores tanker.
Også dem der bare popper op helt pr. automatik og som sjældent er de tanker der er gode for os.
Så altså, long story short, det der har hjulpet mig er at se på noget af alt det gode jeg har, lige nu og her, og give slip på alt det dårlige eller alt det jeg synes jeg mangler.
Jeg fører blandt andet taknemmelighedsdagbog.
Ja, det lyder sgu helt damebladsagtigt, men jeg siger dig, det er sgu noget der batter. Fordi, det at jeg begyndte at skrive små gode ting ned, gjorde at jeg langsomt men sikkert begyndte at få fokus på de gode ting.
Det tvang jeg jo nærmest mig selv til, når jeg skulle sidde der og have det helt ad helvedes til og så pine død skulle finde en eller anden ting der havde været god den dag.
I starten var det sindsygt svært for mig.
Jeg skulle viiiiiirkelig tænke længe over det før jeg kunne komme på ting jeg var glad eller taknemmelig for.
Det startede i det helt små med at jeg var glad for at solen skinnede i dag.
Og tonsvis og atter tonsvis af gange fik jeg skrevet hvor glad jeg var for mine små katte, så når jeg synes at der ikke rigtigt var andet (hvilket ikke var sandt, jeg kunne bare ikke se det) så kunne jeg i det mindste skrive dem på.
Så gik det op for mig at jeg jo faktisk havde et kæmpe netværk af søde mennesker der viste mig omsorg og opbakning.
Så de små gode oplevelser med venner og veninder begyndte jeg også at skrive ned.
Søde kommentarer på Facebook.
Små cafébesøg.
Bio-ture.
Gode telefonsamtaler og i den dur.
Jeg skrev ned at jeg var glad for min gode seng.
Jeg skrev ned at jeg var glad for min sofa.
Ting jeg jo også havde haft delt med min eks, men jeg skulle fandme ikke skifte hele gøjemøjet ud bare fordi han havde siddet i den sofa eller sovet i den seng, fandme nej!
Jeg insisterede på at være glad for alle mine ting, også ting jeg havde fået af ham, og jeg nægtede at lægge dårlige følelser i dem!
Og hold da op en lettelse det har været.
Befriende.
Og jeg har selv valgt det.
Det er jeg så stolt af.
Jeg begyndte at skrive ned når jeg havde fået sovet godt igennem (for det var rigtigt sjældent at det skete da jeg havde det allermest skidt).
Jeg skrev ned at jeg var taknemmelig for at jeg var blevet bedre til at læse bøger, og at jeg var taknemmelig for at der var så mange fantastiske selvhjælpsbøger og bøger om hvordan man ændrer tankemønstre.
Jeg skrev ned, at alle de dårlige sider jeg nu så af min eks-kæreste gjorde det klart for mig at det var det helt rigtige at vi var gået fra hinanden, og langsomt begyndte jeg at se bruddet og hele min deroute som en gave.
Igen, rimeligt højtragende måske og nærmest jubelidiotisk og brandirriterende at høre på:
"En gave"!
Som om!
Men det var det jo virkelig.
Når jeg ser på det nu, og ser på alt det arbejde jeg har gjort med mig selv, og hvor det har bragt mig hen, så er det jo intet mindre en mirakuløst.
Og var jeg ikke blevet forladt tre uger efter min ufrivillige abort af ønskebarnet, så havde jeg ikke haft den nedtur, og så var jeg ikke gået i gang med det her arbejde…
Det burde jeg.
Det burde alle.
For vores egen skyld.
Men vi gør det sjældent før vi når dertil hvor jeg nåede til…
Nu siger jeg igen noget skide-irriterende:
På en eller anden måde er der, i alle setbacks og nedture, bare noget man skal lære.
Bare dumt at man skal nå helt derud på kanten, før man gør noget.
Og ærgerligt at jeg skulle blive 42 år før jeg kom dertil.
Men nogen lærer det aldrig.
Desværre.
Så jeg er taknemmelig for at jeg har lært det.
Bedre sent end aldrig…
Og hvad enten dine -og andres- setbacks handler om kærlighed, bolig, job, økonomi, vægt eller hvad ved jeg, så er der noget vi skal lære…
Når man så får flere af dem på én gang, som du og jeg har gjort, så kan det sgu virke en kende overvældende.
Jeg tog en ting ad gangen, og startede med at finde noget positivt i min tilværelse som den var lige nu og her.
Det, der ville hjælpe mig, hvis jeg var i din situation ville være noget i retningen af følgende:
1)
Jeg ville tænke på hvor dejligt det er at jeg kan være hos min far. Det er sgu heldigt. Det er ikke alle der har den mulighed.
2)
Jeg ville gå og glæde mig til at jeg fik en ny bolig en dag, se den for mig i al sin prompt og pragt, i stedet for at fokusere på at jeg ikke havde en lige nu. (Og det var faktisk præcis det jeg gjorde da jeg boede på sofaer hos veninder sidste år og da jeg siden boede til fremleje på i en ældre dames lejlighed på Vesterbro. Eller det vil sige, jeg begyndte at gøre det. Lige så stille og roligt kom det til mig, at jeg var nødt til at se på det hele med positiv-briller på. Se det som en ny start. Det var ikke noget jeg gjorde fra den ene dag til den anden, men noget jeg blev bedre og bedre til dag for dag, fordi jeg bevidst arbejdede på det. Arbejdede på mine tanker og på måden jeg opfattede situationerne på. Jeg fik nye -og bedre- perspektiver på tingene)
3)
Jeg ville også prøve at gå og forestille mig hvor dejligt det bliver at indrette den kommende bolig og gøre den hyggelig.
4)
Jeg ville droppe fokus på hvordan jeg skulle få mig en ny bolig, og prøve at hvile i at jeg nok skulle finde mig en bolig og at alting nok skulle blive godt og rart igen og gøre hvad jeg kunne for at finde en og bevare troen på at den nok skulle dukke op, så længe jeg gjorde hvad jeg kunne for at finde en.
5)
Jeg ville prøve at se om jeg på nogen måde kunne sætte pris på at jeg ikke længere er sammen med min eks. (Som jeg ser det, har din eks svigtet da du havde allermest brug for ham. Sådan en har man ingen glæde af. Jeg begyndte selv at se alle de gode ting ved at min eks havde forladt mig, fremfor at fortsætte med at føle mig stakkels, ensom og forladt. For jeg følte mig virkelig som et offer i starten, og det i sådan en grad at jeg ikke synes livet var værd at leve mere, så da jeg begyndte at fjerne mig fra offerrollen, så skete der mirakler med mit sind. Nu ved jeg ikke hvorfor du har været indlagt på psykiatrisk, men jeg ved med sikkerhed, at de fleste depressioner, angst-tilfælde og andre psykiske lidelser, ofte skyldes vores negative måde at tænke på, og at de dårlige tankemønstre pludselig går ind og tager al magten over os og katalyserer et væld af ubehagelige følelser -også på helt konkret fysisk plan- og som igen leder os til at betragte og tackle situationer på værst tænkelige måde. Lidt ligesom mig på gruppeferien, bare i endnu større og videre skala)
6)
Jeg ville begynde at gå og glæde mig til når jeg en dag mødte en ny mand. Jeg ville gå og forestille mig hvad han er for en type, hvad det gode ved ham er, hvilke dejlige egenskaber han har, og hvilke gode værdier han besidder. (Når man gør det, så bliver man samtidig pludselig også meget mere klar i spyttet omkring hvilken type mand man egentlig gerne vil have i sit liv. Win-win! Jo mere du bliver klar over hvad det egentlig er du søger i et parforhold, jo mere vil du også gå efter det og jo større er chancen for at du vil være mere tro mod dig selv og dine behov, fremfor at gå på kompromis og lade dig nøjes med.)
Jeg ser sådan på det, hvad ville jeg gøre for dem jeg elsker allermest?
Hvis jeg havde børn ville det jo nok være dem jeg elskede allermest.
Ville jeg ønske for dem at de lod sig nøjes med, når de skulle finde kærligheden?
Hell no!!
Og ved du hvad, sådan skal man altså også behandle sig selv!
Det er jo helt galimatias at man ikke gør det!
Det betyder jo bare at man så åbenbart ikke elsker sig selv lige så betingelsesløst som man elsker sine børn -eller sine katte i mit tilfælde, hahahaha.
Så der har du målestokken du kan gå efter:
Hvis du ville gøre det for dine børn, din bedste veninde, eller din hund, så skal du saftsusemig også ville gøre det for dig selv.
Punktum!
?
7)
Mht job ville jeg gøre mit ypperste for at finde noget arbejdsglæde i det job jeg nu engang har. Der er jo en grund til at jeg har valgt det engang. Jeg ville fokusere på de små ting ved mit arbejde jeg er glad for og fremhæve dem for mig selv hele tiden, fremfor hele tiden at tale om alt det dårlige.
Når man taler om og tænker på alt det dårlige, så får man det bare endnu mere dårligt.
Når man taler om og tænker på alt det dårlige, så tiltrækker man bare mere af det dårlige.
Når man taler om og tænker på alt det dårlige, så bliver alt det dårlige endnu mere nederen.
Osv.
Hvis jeg ikke kan finde noget som helst, så ville jeg gå i gang med at få opdateret mit CV i en helvedes fart og så ville jeg begynde at skrive på en kick-ass uopfordret ansøgning til de virksomheder jeg mente kunne ligge inde med mit drømme-job.
Jeg ville ikke blive hængende i et job der trak mig ned.
Det har jeg prøvet, og jeg gør det aldrig igen.
Jeg husker at hver gang jeg havde haft fri-uge (det var et job med skifteholdsarbejde, så jeg havde friuger) så blev jeg syg lige inden friugen sluttede. Ondt i halsen, ondt i ørene, ondt i hovedet og snot i lange baner, nærmest influenza lignende symptomer.
Fordi jeg afskyede mit job så meget.
Holy moly!
Kan ikke anbefales.
Nu vil jeg dele en ret så spændende ting med dig:
Noget af det der har hjulpet mig rigtigt meget i det år der nu er gået siden den store nedtur, er at være enorm selektiv med hvad jeg "fylder" mig selv med.
Hvis mine tanker bliver dumme, og jeg ikke kan tænke på andet end alt det negative, og ikke er i stand til at overskrive de sorte tanker med gode, rare tanker, så har jeg fundet nogle andre kilder end mit eget lille hoved, til at fylde mig med glæde og optimisme.
Og jeg fandt det på YouTube!
YouTube er jo en sand GULDGRUBE af materiale der ligger frit tilgængeligt for alle!
Og der er noget for enhver smag, det vil jeg gerne love.
Noget af det jeg -udover YouTube- har skam-lyttet til er TED talks, og en af de TED talks der har inspireret mig meget, handlede om stress.
Du fortæller mig at du havde et stressende arbejde.
Men hvad nu hvis du ser på arbejdspresset som en sjov udfordring?
Hvad nu hvis du ser på de mange opgaver som en fed mulighed for at holde dig selv på dupperne hele tiden og som noget der holder dig up-to-date på alt hvad der rør sig i din branche og som presser dig på den fede både til at performe og yde et stykke spitzenklasse arbejde!?
Noget af den nyeste forskning viser faktisk at hvorvidt stress skader os eller ej, i høj grad afhænger af vores opfattelse af stress.
Hvad nu hvis man så på den der galoperende hjertebanken og den heftige vejrtrækning som noget positivt?
Som et tegn på at kroppen gjorde sig kampklar til udfordringen og som et tegn på at kroppen var i fuld gang med at køre kanonerne i stilling i allerbedste forstand?
…Og ikke opfattede det som noget forfærdeligt og skræmmende noget vi hellere må tage en pille for eller lægge os hjem under dynen i fosterstilling over, indtil det er gået væk…
Den undersøgelse der er blevet lavet omkring det her siger, at af de mennesker som havde den overbevisning at stress havde en kæmpe (negativ) indflydelse på deres helbred, havde hele 43% større risiko for dødsfald.
43%!!!
Omvendt, så var de der ikke betragtede påvirkningen af stress og dens fysiske symptomer som et problem eller noget farligt, dem der var mindst sandsynlige for at ville ende op med at dø af stress-symptomer eller følgesygdomme heraf.
Sindssygt alligevel ikke?
Men vi har jo allesammen fået ad vide at stress var noget vææææææmmeligt noget der var farligt for vores helbred, og den overbevisning har mange af os taget til os som fakta.
Du kan se den TED talk her:
Hvad end du siger til din krop (din underbevidsthed), så tror den på dig!
A) NEGATIV:
Så hvis du siger noget er svært, og gentager det nok gange, så bliver det svært.
B) POSITIV
Hvis du siger at det her stress-hjertegalop er min krops måde at hjælpe mig til at blive helt på dupperne til denne opgave/dette pres, så bliver det det!
Lad mig fortælle dig om en lille opdagelse jeg selv har gjort:
Jeg havde det -selvsagt- ganske forfærdeligt da jeg blev indlagt.
Mit hjerte hamrede så hårdt i min brystkasse at det gjorde fysisk ondt.
Min mave havde ubehagelige sommerfugle som gav mig tynd mave.
Min hals snørede sig så meget sammen at jeg næsten ikke kunne trække vejret og det gjorde også ondt.
Mine ben føltes svage.
Jeg havde en forfærdelig hovedpine som ofte blev så slem at jeg fik kvalme.
Det var ganske rædselsfuldt.
Og mine tanker omkring det var tilsvarende fulde af rædsel.
Jeg fik piller for mine angst-symptomer.
Pillerne tog den der hæslige hamren i brystet.
Men de tog ikke alt det andet.
De tog ikke den sammensnørede hals og de tog ikke de mange plagende tanker.
Det der skulle til for at fjerne det, var alt det andet jeg har gjort selv.
Noget ingen piller, læger, psykologer eller psykiatere kunne gøre for mig.
I februar mødte jeg så en mand, og jeg tænkte wauw, det var fandme hurtigt!
Der var jo kun knapt gået et år, og sidst jeg var single varede det i 10 år!
Så jeg var mildest talt begejstret, og jeg har klappet mig selv på skulderen, fordi jeg ved at det handler om at jeg har skiftet fokus.
Set muligheder fremfor begrænsninger, også hvad angår kærlighed.
Men det der er det sjove og hele pointen med det jeg ville sige er, at jeg blev skrup-forelsket i denne her mand og jeg fik de vildeste sommerfugle i maven og den vildeste hamren i brystet…
Så en dag da jeg sad i min bil, med mit galoperende hjerte og mine glade sommerfugle i maven, så slog det mig pludselig….
…Hold da helt kæft…
DET ER JO DEN SAMME FØLELSE!
Det er NØJAGTIGT samme FYSISKE følelse som da jeg gik ned med flaget og troede jeg skulle dø af kærestesorg og selvhad.
Det ENESTE der adskiller sig, er det jeg lægger i følelsen.
Jeg siger det lige igen:
Det eneste der adskiller sig er det jeg lægger i følelsen. Den måde jeg opfatter følelsen på.
Det er klart, jeg havde mødt en dejlig fyr, alt var rosen-rødt,og så er det jo nemt nok at tilskrive de medfølgende fysiske symptomer noget godt.
Udfordringen er så at kunne gøre det samme når man er knust, ked af det, vred, frustreret, bange, jaloux, irriteret, forarget og når man afskyr og hvad der nu ellers findes af "negative tilstande".
Det jeg kunne have gjort dengang var at sige til mig selv at dette her var min krops måde at gøre mig klar til de kommende udfordringer der opstod i kølvandet på at miste barn, mand og hjem, og min krops måde at fortælle mig at jeg skulle passe godt på mig selv og tage mig af mig, og elske mig og være der for mig.
Og skal jeg afsløre noget?
Ham den nye mand jeg blev så forelsket i, han var slet ikke klar til et parforhold på samme måde som jeg.
SLASK!
Hammer i hovedet til Hanne igen.
Men ved du hvad, jeg tog det helt roligt.
Mit mindset var nemlig helt anderledes end sidste år. (Normalt ville jeg ryge lige lukt ned i kulkælderen, uanset om jeg har kendt fyren i 2 år eller 2 måneder)
Jeg begyndte at se det positive i at det nok ikke skulle være os alligevel.
Og det gav så meget mening.
Det var ikke engang sådan at jeg behøvede at digte dårlige ting om ham for at kunne se at det nok var fint at det ikke blev os.
Jeg havde bare en helt fast tro på at når nu det var sådan, så var det nok også fordi det var rigtigt sådan.
Befriende.
Puh, ha…
Nå… nu har jeg så "kloget" mig på mange ting her i denne mail, haha, blandt andet hvorfor vi fra naturens side bare har nemmere ved at dvæle ved det negative end ved det positive, men nu vil jeg så lige tillade mig at kloge mig yderligere. ?
Here goes:
Vi skal ikke glemme, at rigtigt mange -nok i virkeligheden de fleste- af vores overbevisninger og handlemønstre er overleveringer.
Yep!
Det er overleveringer fra vores forældre, blandt andet.
Til evig arv og eje.
Værs'god,
De overleveringer vi har fået, det er dem vi har brugt, for det er jo dem vi har lært.
Det vil altså sige at hvis man skal lave om på noget ved sig selv og sin personlighed, så skal man til at lære noget helt nyt…
På skolebænken so to speak.
Vist er det da en udfordring, men det er jo ikke umuligt. Det kræver "blot" lidt vilje og vedholdenhed.
Jeg har fundet ud af, at hvis jeg virkelig gerne vil ændre mit liv, så negative overbevisninger og selvdestruktive handlemønstre ikke bliver til evig arv og eje, så kan jeg godt.
Men nej, det tager ikke 21 dage at ændre en overbevisning, nogle handlemønstre eller en dårlig vane som jeg ellers har hørt til hudløshed fra mange kloge mennesker.
Det tager desværre meget, meget længere tid, og det kræver, mange, mange gentagelser.
Du store kineser, det kniber da for mig med at fatte mig i korthed, det korte og det lange er:
Ja, selvfølgelig kan du komme videre.
Hang in there!
Masser af gode tanker og gode vibes din vej!
Og igen, TUSIND TAK for din søde mail!
/Hanne <3